The definitive version of XCP-ng 8.2 is now available! If you want to know more about the new features in this edition, we encourage you to take a look at our previous blogpost on the topic: XCP-ng 8.2 RC and XCP-ng 8.2 - Beta.
If you are willing to get pro support for our LTS version, contact us through this page.
Also, all the details about this edition are available in the dedicated section of our official documentation.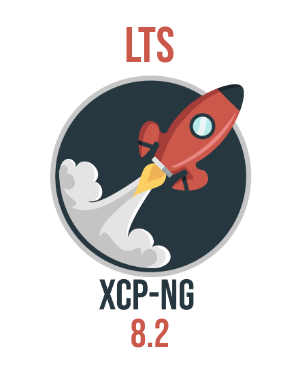 Support cycle for XCP-ng releases
XCP-ng 8.2 is the first Long Term Support version of our virtualization platform. Consequently, we decided to make some changes and clarifications regarding the way our support cycle works for the XCP-ng hypervisor.
Standard Release
There's one Standard Release supported at a given time, with an exception of a "grace period" for few months after a new Standard Release is made, giving room to do the upgrade.
In our current state, where XCP-ng 8.2 is somehow both LTS and Standard, we'll still deliver support for XCP-ng 8.1 until a future version Standard Release (8.3) is available. That means that starting today, the two XCP-ng versions that are officially supported are:
XCP-ng versions 8.0 and older won't benefit any longer from bugfixes as well as security fixes. We encourage all production environments to upgrade to one of the supported versions as soon as possible.
EDIT: About support for XCP-ng 8.1
Originally, we were intending to support, XCP-ng 8.1 version until the release of XCP-ng 8.3. However, as the date of the release of XCP-ng 8.3 is a bit unpredictable we now think  that our support policy is not clear enough. Therefore, XCP-ng 8.1 will be supported until:
The release of XCP-ng 8.3
or
Depending on which event happens first.  
Long Term Support Release

XCP-ng 8.2 benefits from a Long Term Support offer. That means that even after this version leaves the Standard Release cycle (when we release XCP-ng 8.3), the LTS version will still benefit from updates and from our pro support services for customers with corresponding agreements.
However, to keep the version as stable as possible, the updates will be limited to:
Security fixes
Major Bugfixes
Some Driver updates
Information about the support cycle of XCP-ng is now available in our official documentation.
How to upgrade
XCP-ng 8.2 is a minor number upgrade, which means you can use the yum upgrade method OR download the ISO file.
Download files are available here:
If you want a more complete "How to Upgrade" guide, you can refer to our documentation.
Main features
Besides the fact that our new release is the first LTS edition for our virtualization platform, XCP-ng also comes with some brand new features and improvements.
UEFI support
We entirely re-implemented the UEFI support in XCP-ng 8.2. While this won't affect user side a lot, it's a very important modification for our devs team that will allow them a lot more flexibility and control in the future, especially since Citrix closed it's own version initially (but then decided to re-open it few weeks ago, there's too much risks to rely on them).
This is also the opportunity to work on VM secure boot support in a short time frame.
Openflow controller access
We automated the configuration needed by the user to allow communication with the Openflow controller in Xen Orchestra. We have a dedicated devblog on that feature.
Core scheduling (experimental)
With Core Scheduling, you can choose to leave Hyper Threading enabled and ask the scheduler to always group vCPUs of a given VM together on the same physical core(s). This way you can keep the side-channel attack risk low and still use Hyper Threading. All the details about this new feature are available in our official documentation.  
Storage driver support (experimental)
We added native support for:
New CPUs support
We added support for:
Icelake CPUs
Cometlake CPUs
Security improvements
All the latest security patches for Xen are available in XCP-ng 8.2, including the latest patches regarding PLATYPUS flaws in Intel's CPUs.