100,000 unique downloads for XCP-ng
We are proud to announce that XCP-ng has reached 100,000 unique downloads! It's only the beginning but it's a symbolic level, and it tells a lot about how many people have been convinced to use XCP-ng! Thank you everyone for being such a great community!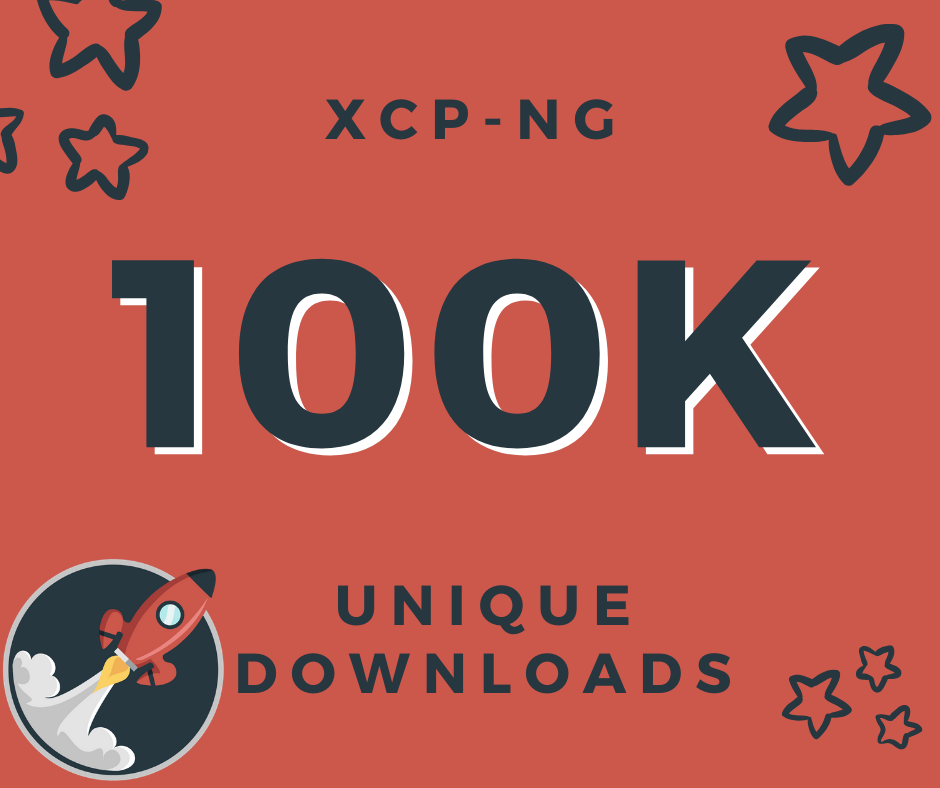 You can take a look on the live mirrors map here: http://mirrors.xcp-ng.org/?mirrorstats
What's next?
There's so many things going on, but we'll try to do a quick recap by doing a global introduction on the whole team:
Ronan 👨‍🍳 our storage specialist, in mainly working on a new storage type, using Linstore/DRBD. You can read the whole story here. He'll also be involved on cooking a deeper Ceph and ZFS integration in XCP-ng.
Damien 👨‍🎓 is about to start a thesis on Xen Storage performance (🤞 we are just waiting for the administrative green-light!), helping us to benchmark various parts of the stack: this will likely yield to big storage performance improvement per VM, like latency, throughput, IOPS…
Benjamin 👨‍🔧 on the network side, is currently working on OpenFlow rules in our existing Xen Orchestra SDN plugin, that will be used for XCP-ng. It means obviously an UI in XO to configure network/protocol limitations for a VM virtual network card! Expect deeper integration within Open VSwitch and XCP-ng in the future. And all of that, fully upstream.
Samuel 🎅 our release manager (he's the guy behind our fresh 8.1 release!), successfully pushed new security updates recently. Don't forget to keep your XCP-ng up to date! His long run tasks are building a fully automated testing platform -CI for XCP-ng!- but also improve the upgrade process with a potential wrapper on top of yum to unite best of both worlds (ISO upgrade vs yum).
Bobby 🕵️ the new Xen specialist we hired recently, is working on multiple security related features: VM secure boot and also XCP-ng Secure boot on the hardware, to get a complete chain of trust. He's also a RISC-V fan, so we keep an eye on that architecture, while he started to do some contributions to port Xen on it.
Jon 👨‍🚒 a well known Dell firmware hacker, is working with us to improve our support system in order to find issues faster, because of his great experience in hardware related problems (he secretely loves Broadcom NICs).
Rushikesh 🧝 on the kernel side, is helping us on various improvements, contributing also upstream: Netdata fixes, bundling drivers etc. He's always the first to build us new kernels so we can test them in XCP-ng! These efforts will be "merged" inside our future CI plans.
Nicolas 👨‍🔬 our XOSAN main dev, is still working on XOSANv2, the next hyperconvergence solution for XCP-ng. The backend is working already, and most of the work needed will be on the UI side. Also note that storage domains are closely monitored, because they could bring XOSANv3, with best of both solutions (XOSANv1 and v2). Stay tuned on that!
John 💂 our external XAPI specialist, pushing new features into upstream, like sending hostname in DHCP negotiation, but also future content that will be helpful on security or speed.
Charles 🤵 strategy/partnership guy, is talking with a lot of different actors, in various sectors (hosting, hardware vendors…). We are seeing nice traction with XCP-ng, especially when people think about getting rid of their dependency on VMware.
Marc 🦹‍ is working hard on improving things around XCP-ng communication, so we can continue to convince new people to switch to XCP-ng. Especially for people who never used Xen before!
Amel 🧚‍ who just started 15 days ago, is now here to assist our existing and future customers to whatever they need to adopt and use both XCP-ng and Xen Orchestra.
Julien 🧙‍ our XO lead developer (CTO and co-founder), is doing various tests and benchmarks to find potential backup export bottlenecks, both in XO and XCP-ng. This will lead to some dev blog soon, stay tuned.
Pierre 👨‍🎨 is dedicated on XO UI lead, and he started to work on XO Lite/XO6: first will be a small web UI in XCP-ng to be able to do very basic tasks -so it's XCP-ng related-, and XO 6 will be the next UI in Xen Orchestra 6, being even more powerful than the current one.
And finally, myself, Olivier 🧞: my main role is to synchronize everyone, from internal team to the community. We successfully improved a LOT our collaboration with upstream projects (XAPI, Xen…), and we plan to continue to go that way. And I'm working hard to bring my initial vision to everyone: providing a powerful, fully Open Source AND easy to use virtualization platform to the masses.
Thanks a lot for being part of this awesome community! 🚀 🚀 🚀
And a special thanks for the rest of Vates team, contributing to both XCP-ng and XO projects:
Badr 👨‍💻 and Rajaa 👩‍💻 for their work in Xen Orchestra
Fabrice 👷‍ and Georges 🧛 doing ton of stuff on our websites (front and backend, support site etc.)
Nithida 🦹‍, co-founder and our CFO, to plan the future and be sure we have the money needed for this fast growing team!
Yes, you read it correctly: it's now 20 people directly linked to the success of XCP-ng and Xen Orcherstra! This wouldn't have been possible without our customers, so a big THANKS to you!
You can comment this in our dedicated forum thread.