CHSCC's Strategic Move: Why They Chose Vates VMS Over VMware
The Collaborative Health Studies Coordinating Center (CHSCC) at the University of Washington successfully transitioned their VMware 7 virtual infrastructure to Vates VMS. The migration process, completed over the past few months, has been handled in a fast and efficient way. An experience we are happy to share today.
We had the privilege of speaking with Lee Damon, an experienced Unix and Linux system administrator at CHSCC. With an impressive career spanning over 35 years, Lee offered invaluable insights into both the migration experience and the decision-making process that led them to choose Vates Virtualization Management Stack as their VMware replacement.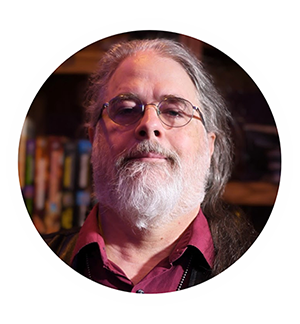 👷 I've been with various departments at University of Washington since 2001, starting at CHSCC in 2015. My primary tasks include the usual system management suite – everything from creating accounts and backing up data to configuration management, system deployment, firewall configuration, and hardware & OS evaluation/configuration/management, etc. in addition to managing and supporting the compute and virtualization clusters.
Collaborative Health Studies Coordinating Center is a non-profit academic organization with over 30 years of experience running multi-site epidemiologic studies and clinical trials. Lee explained:
👷 Our center is a collaborative effort involving faculty, staff and students from the Departments of Biostatistics and Epidemiology at the University of Washington. Our team of programmers, biostatisticians, epidemiologists and project managers provides expertise in study design, data collection and management, and statistical analysis. Our mission is to support studies that further scientific inquiry in areas that will ultimately impact public health. We also support the next generation of researchers by offering assistantships to current students and postdoctoral fellowships to recent graduates.
Virtualization has been a critical component in CHSCC infrastructure since a long time.
👷 The initial decision to use virtualization here was made long before I was hired. I can only speculate what their initial impetus was. We've been using it since I came onboard for its incredible flexibility  around rapidly changing needs such as as new studies being funded and needing to have support added quickly. The ability to prototype, develop, and deploy without having to wait for new hardware resources is critical to us. We frequently go from « Hmm, I wonder » to production host deployment in a matter of weeks, or even days in some cases.
THE CHALLENGE
Like many newcomers to our user community, Lee Damon sought an alternative to VMware 7, particularly in light of impending licensing changes that would significantly inflate their virtual infrastructure budget.
👷 Overall we were generally satisfied with our previous infrastructure but the licensing was going to change soon and we didn't have any support from them at all. When we decided to avoid the risk of license change, I started looking around for alternatives. We were looking for something that was in-budget, supported, and handled our existing and projected needs.
Enter Vates Virtualization Management Stack. Lee had a well-defined set of requirements, as well as a list of desirable features.
First and foremost, platform stability was non-negotiable.
👷 We didn't want to sacrifice reliability for bleeding edge.
Additionally, the ability to leverage their existing hardware was crucial, given that this was a migration project rather than a full infrastructure overhaul.
👷 As for 'nice to have' things - having tools to export our existing hosts from our previous system and import them directly into the new pool instead of having to completely rebuild everything was high on that list.
Lastly, while not a deal-breaker, the experience of working with Vates—a company of human scale—proved to be a refreshing change from dealing with large, impersonal corporations known for their labyrinthine phone trees and sluggish customer service.
THE INFRASTRUCTURE
The infrastructure at CHSCC is robust, featuring a diverse array of six host machines running on our XCP-ng platform. Each host is equipped with Intel CPUs and offers a memory capacity ranging from 512 GiB to 1 TiB of RAM. These hosts are interconnected via trunked dual-10G Ethernet, which is part of a dedicated "NAS Network." This network is integrated with two OmniOS ZFS-based NFS servers, responsible for all storage requirements. These servers also facilitate trunked dual-10G "frontside" access and management connections.
For comprehensive management of this intricate setup, CHSCC utilizes Xen Orchestra (XOA), ensuring smooth operation of all components within the pool. Currently, the pool is home to 53 virtual machines, a number that is dynamically evolving, usually in an upward trajectory.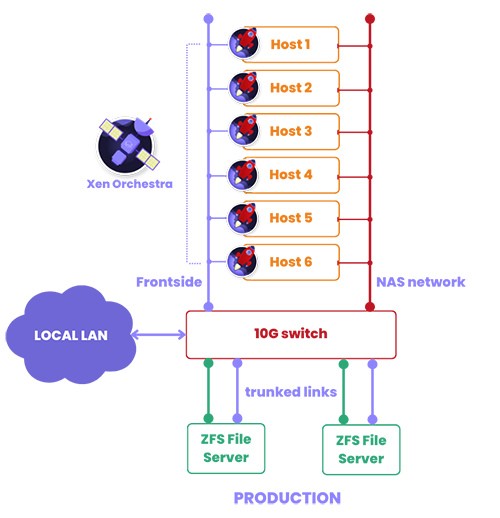 In addition to the primary pool, CHSCC's infrastructure includes a secondary pool comprised of two older hypervisors, also managed through Xen Orchestra (XOA). This lab environment serves as a safeguard, designed to test changes and updates before they are implemented in the production setting. This ensures that no disruptions occur in the production environment and that the XOA production configuration remains stable.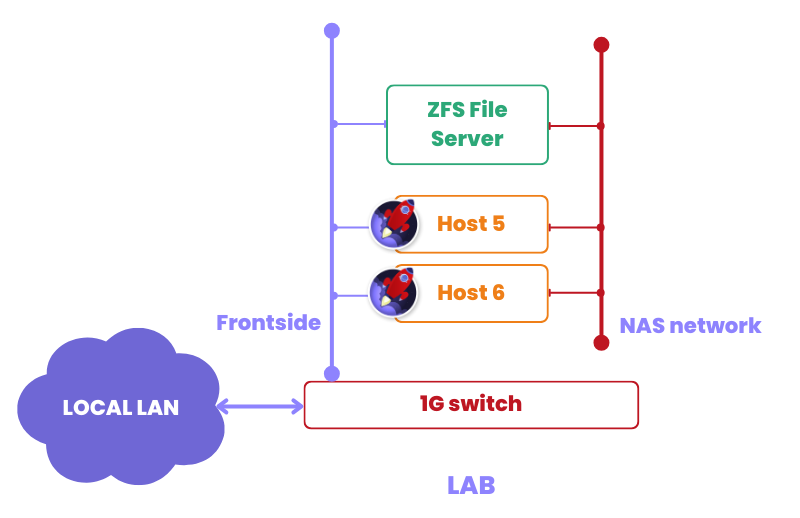 In his day-to-day operations, Lee Damon highly values the robust capabilities of Xen Orchestra. Among the features he appreciates most are the platform's ability to monitor pool statistics, facilitate quick and reliable live migrations between hosts, and simplify the process of creating new virtual machines.
With the migration from VMware 7 now complete, Lee doesn't foresee significant changes to his existing infrastructure in the near future. His setup, which includes six host machines and two ZFS-NFS file servers hosting the VDIs, offers ample room for scalability should new requirements emerge.